IDKIT-410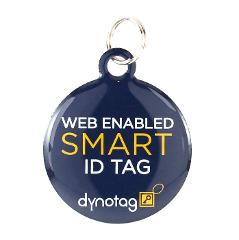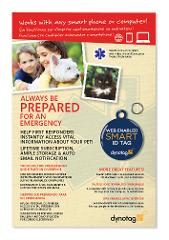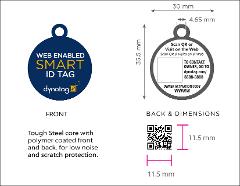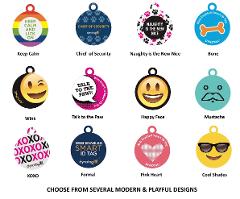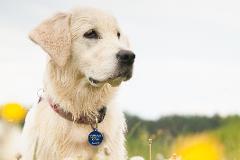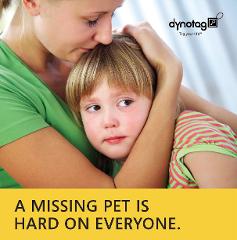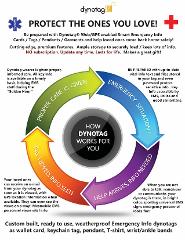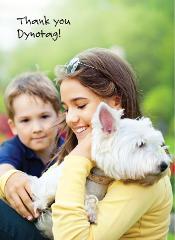 Super Pet Tag - Polymer Coated Stainless Steel, PLAY series: "Formal Blue"
Serious, formal pet? So is this tag, in an elegant design!
Steel connector ring included. Suitable for use as a Pet Tag using the included connector ring.
These tags, with their tough steel construction and protective polymer coating, work well under outdoor conditions as well as wet locations.
Dynotag Super Pet Tags help your pets come back home safely. The tags are durable, easy to set up, and maintainence-free.

Load Basic Recovery Information - or Your Pet's Entire Licensing and Medical Documentation History!
Our professionally designed high-quality pet tags can store all kinds of information in case your pet gets lost:

Phone Numbers

Addresses

Pet Name

Breed/Color/Weight/Marks, License #, Vaccines, Allergies
Whenever your pet's tag is found and scanned, you'll immediately receive an email notification at the address of your choosing.

These tags feature our full set of patented DynoIQ™ Smart Tag technologies (learn more)
Full GOLD-level capabilities!
This product comes with Gold-level functionality. This includes advanced capabilities such as:
Smartphone-assisted tag view locations
Map of last access
Multilevel access control with custom passwords
Automatic email notification when your tag is viewed
Vanity tag address
Flexible log book note attachment services
This product comes with a LIFETIME subscription.
No hidden fees, no monthly or annual recurring subscription plan.

Product Activation

This tag comes with an activation code, which you can use with a free account at Dynotag.com. Click "Activate Tag" on the Home screen for instructions.

<!–- placeholder -–>

Dynotag Capabilities

All dynotags feature our patented Smart Tag technology, developed in cooperation with emergency response experts:
Every tag comes with a QR code and a special web address that is unique for that dynotag. No special app or software needed!
Once you activate a tag with a free account, that tag becomes exclusively yours! You, and only you, can update the tag contents. Others can only view what you choose to share.
A QR scanner app on a smartphone can be used to view the tag contents through a web browser.
You don't have to be near your tag to update its contents. Just sign into your Dynotag account anywhere on the planet and update your tag content as often as you want.
Your purchase includes a lifetime subscription and plenty of storage space.
We don't charge any recurring fees for your subscription.
No Electronics, Radio - or Batteries. How Does it Work?
Dynotags are passive; they have no battery, electronics, radio, etc. The Dynotag Cloud Service (DCS) does all the "brain" work for the tags!
Location tracking uses the electronics of the smartphone or computer viewing the tag:
Smartphones have detailed awareness of their location at all times.
When any device views the tag, DCS requests its location.
A notification email is sent to the tag owner within seconds.
We keep a private access log for the tag owner to view from their Dynotag account.
If we can't get a precise location, we still log access time and IP address to give you a rough estimate.
Lost & Found offices, first responders, security, and transportation service staff are required by law to contact you if they can. A dynotag on your property provides them with that key information.
Similarly, a dynotag Emergency Information tag provides first responders with vital information to administer proper help and get in touch with the contacts listed in the tag.
Warranty
All Dynotag products come with a one-year tag replacement guarantee.
The cloud component of your tag is maintained by dynotag and will be kept available for life.
You can remove this information from the system by "resetting" a tag that belongs to your account.
Dynotags Come with Built-in Rewards
When you pick from our extensive selection of smart tags, our "Good Samaritan Rewards" and "Shelter Angel" programs provide rewards on your behalf!
Every Purchase Helps Pets In Need
"Shelter Angel" is a charity program is funded by a portion of proceeds from Dynotag's product sales.

Our goal is to help increase pet shelter adoptions by giving new adopters a free Dynotag Super Pet Tag and increasing awareness for millions of pets waiting to be adopted.
About Us

Dynotag is a consumer technology company based in Seattle, WA. We have been offering consumers and businesses instant global solutions based on our patented Web Enabled Smart Tag technology since 2011.
All our products are designed and manufactured to our specifications. Final assembly and Quality Assurance is performed in the U.S. Our core cloud service infrastructure is based in the U.S.