Emergency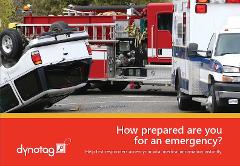 Emergency Info Tags
Emergency SuperMedID™ Tags
One NEVER knows when important information will be needed in an emergency situation.
Do you remember your doctor's contact info, your insurance info, supplements or medicines you are taking, any chronic conditions or allergies?
Do your loved ones have all this information on their person if need be?
How will First Responders get access to this vital information if you are not conscious?
Do you have important procedural consent documents ready to allow help?
How will you know when a loved one's emergency information is viewed?
Can you keep your basic information available and sensitive information secure?
Can you easily update this information as often as you need to?
Dynotag has you covered with an extensive selection of tough, purpose built, ready-to-use Emergency Contact Information (ECI) products, featuring our patented DynoIQ™ Smart Tag technologies.