Stickers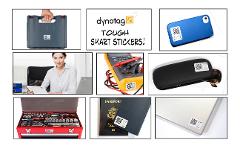 - Tough Stickers
Tough Smart Stickers
These Tough Stickers are suitable for all kinds of gear!

Lost & Found Offices at sports clubs, resorts, schools and meeting venues are full of misplaced gear.
Only if there was any identification on those items to help contact the owner!
Now, Dynotag has you covered with our innovative Smart Stickers for all sorts of property/asset recovery and information sharing applications!
We offer a variety of designs and capabilities to meet your needs depending on your application...
Our stickers are made of specially designed and treated materials. (learn more)