IDKIT-165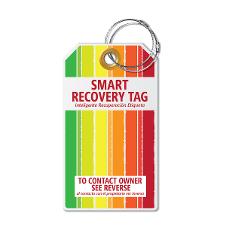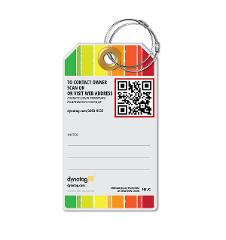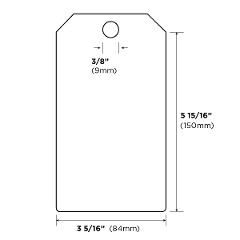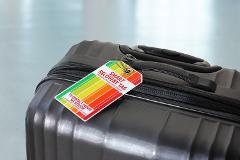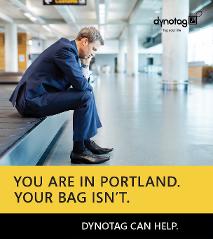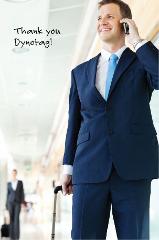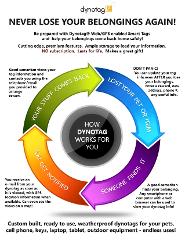 MegaTag: Rainbow
One RAINBOW pattern Mega Tag designed to be visible and fun with bright colors.
Our synthetic laminated synthetic tags are engineered for strength and lightness. (learn more)
Our PROTAGZ series MEGA tags are engineered for very high visibility and extreme toughness. They are HUGE at 84mm x 150mm large, made of resilient, synthetic triple layer laminate material and feature a metal grommet for extra resilience. Designed as big as a postcard, they feature Military/Emergency grade visibility for use on your professional gear boxes and luggage.
There is even a large area that can be written on with a permanent marker - for further personalization. We include TWO braided stainless steel loops with this tag to attach with double the security. Always add a drop of glue on the screw of the loop to make the steel loop permanent.
Our amazingly capable Smart Property Tags are more than an ordinary property tag - they offer a complete property information management system! These property tags, while a natural fit for luggage and bags, work great on sports and outdoor equipment, schools, businesses with varying asset inventory as well as rental equipment.
Dynotags come with advanced DYNOIQ™ feature set built-in and with service included for LIFE. (learn more)
Your FREE dynotag account is where you manage your collection of dynotags. Once you sign into your dynotag account, you are ready to start activating tags and loading them with recovery information.
You can set up and maintain each asset sticker up on a PC, Laptop, Tablet or Smartphone. Similarly, any third party viewing these tags can see the information shared by the owner – in a read-only fashion, using any web browser or smartphone with a QR reader. You can update contents using any modern web browser.
Full GOLD level capabilities!
This product comes with GOLD level functionality. Advanced, industry leading capabilities such as smartphone assisted tag view locations in your tag access logs and map of last access, multilevel ACCESS CONTROL using passwords of your choice, automatic email NOTIFICATION when your tag is viewed, VANITY tag address you can set with a name of your choice and flexible LOG BOOK note attachment services are included with this GOLD level dynotag product. LIFETIME subscription and ample storage also come with your purchase. NO hidden subscriptions, monthly or annual recurring subscription plan is required.
Developed in cooperation with law enforcement and emergency response experts, all dynotags offer advanced security features that include enabling/disabling of the tag by the owner, password protection of the tag information as directed by the owner, as well as password protection of individual files uploaded.
Product Activation
You will ACTIVATE and make this tag yours using the special "Activation Code" on the tag itself…
Activation is simple: Just create a free account at Dynotag.com, sign in, then click "activate tag" at Home screen and follow the instructions.
Dynotag Capabilities
All dynotags feature our patented Smart Tag technology. They are designed by us and are manufactured of premium materials to high standards.
Dynotags come with advanced features built-in:
Every dynotag comes with a Specially encoded QR code and a special web address that is unique for that dynotag.
You simply create your free dynotag account and "Activate" the tag in your account - using that tag's specific "Activation Code".
Once activated, the tag becomes exclusively yours and cannot be activated by anyone else! You, and only you, the tag owner, can update the tag contents. Others can only view what you choose to share.
Every dynotag has a private web page. Note that any modern web browser can be used to view the tag contents - NO special app or NO QR scanner is required!
The QR code is a convenience shortcut: If available, a QR scanner app on a smartphone can be used to scan the tag's QR code to view the tag contents on that smartphone's web browser.
Our global service: Works anywhere on the planet with Internet.
You do not have to be in the vicinity of your tag to update its contents, just sign into your Dynotag account anywhere on the planet and update your tag content as you need - as often as you want.
LIFETIME subscription and ample storage is included in your purchase. NO hidden subscriptions - no monthly or annual recurring subscription plan is required.
Developed in cooperation with law enforcement and emergency response experts, all dynotags offer advanced security features that include enabling/disabling of the tag by the owner, password protection of the tag information as directed by the owner, as well as password protection of individual files uploaded into the tag.
Does NOT Contain any Electronics, Radio - or Batteries. How Does it Work?
Dynotags are passive, meaning that they do NOT contain a battery, electronics, radio, etc. to work. This is because the Dynotag Cloud Service (DCS) does all the "brain" work for the tags!
Location tracking works using the electronics of the smartphone or computer viewing the tag:
Any device viewing the tag content is requested by DCS to report its location.
Smartphones have detailed awareness of their location at all times, with Passive GPS assist and other location services - so they can share precise location information.
A "view notification" email is sent to the tag owner within seconds of the tag getting viewed.
An access log of tag views and location information is kept for the tag owner to privately review when they log into their dynotag account and examine the tag.
If the viewer of the tag can not share precise location, access time and IP address are still logged and location is roughly estimated - and the "view notification" email is sent.
Note that Lost&Found offices, first responders, security and transportation service staff are required by law to give their best effort to contact you using the information in the tag. A dynotag on your property provides them with that key information. Similarly, a dynotag Emergency Information tag provides the first responders with vital information to administer proper help and get in touch with the contacts listed in the tag.
You can think of dynotag Smart Tags primarily as a maintenance free (no batteries, no electronics) repository of information you can easily share, password protect and and update as needed. With lifetime service included for the tag, dynotags are a cost effective way to be prepared and have "Peace of Mind", knowing you planned for contingencies and emergencies...
Warranty
All Dynotag products come with a one-year tag replacement guarantee.
The cloud component of your tag is maintained by dynotag and will be kept available for life.
You can remove the tag information from the system by "Resetting" a tag that belongs to your account
Dynotags Come with Built-in Rewards
When You Pick From Our Extensive Selection Of Smart Tags, our "Good Samaritan Rewards" AND "Shelter Angel" Programs Provide Rewards on Your Behalf!
Every Purchase Helps Pets In Need...
"Shelter Angel" Is a charity program is funded by a portion of proceeds from Dynotag's product sales.
Our goal is to help increase pet shelter adoptions by giving new adopters a FREE Dynotag Super Pet Tag and increasing the awareness for millions of pets waiting to get adopted from pet shelters...
About Us

Dynotag is a consumer technology company based in Seattle, WA. We have been offering consumers and businesses instant on global solutions based on our patented Web Enabled Smart Tag technology since 2011.
All our products are designed and manufactured to our specifications. Final assembly and Quality Assurance is performed in the U.S. Our core cloud service infrastructure is based in the U.S.