IDKIT-A562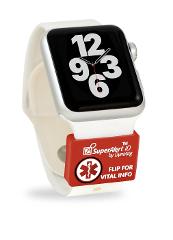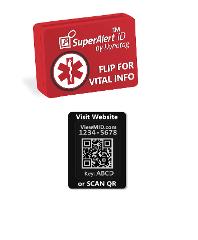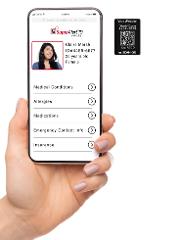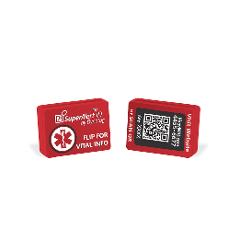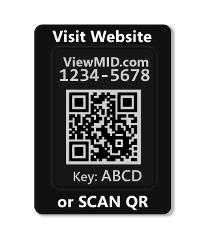 Smart Medical ID Metal Tag in Silicone Watch Band Sleeve - Red
Lets First Responders Open a Detailed Emergency Profile on Any Smartphone, Tablet or Computer in Seconds!
SuperAlert® Smart IDs are the quick and secure way to convey your vital, life-saving information.
Like a credit card, each SuperAlert ID has a unique number and key code that gives first responders secure access to your emergency profile.
The system also automatically notifies your emergency contact when your ID is viewed.
Designed with input from EMTs, the Medical ID profile includes:
Who You Are
Vital Medical Conditions
Emergency Contacts
Allergies, Medications and Vaccinations
Doctors and Providers
Insurance Info and More
This SuperAlert™ ID Medical tag is a result of our years of experience in building tough, resilient and capable Medical IDs since 2011:
Visible to First Responders - easy to wear:
Light as a feather at 2.55grams ( .09 oz) these Smart ID Tags are designed with special "Star of Life" artwork to be immediately recognizable by First Responders and Medical Staff.


Easy to use, impervious to elements:
Soft and resilient silicone sleeve is imperceptible on your wrist. It is engineered to be biocompatible, hypoallergenic and suitable for continuous use.


Tough, metal embedded Medical ID tag:
While silicone is durable, a metal tag is far superior in longevity and durability. This is why we engineered our silicone sleeve to house an embedded metal SuperAlert™ Medical ID tag for long term use. Laser engraved anodized aluminum is ultra resilient against the elements and will be at your service for a lifetime.


Fits a wide variety of wristbands and watch bands:
Extremely flexible and resilient silicone sleeve fits a large variety of watchbands, ranging from 18 to 22 mm in width. Fits all Apple Watch bands and most Fitbit and other wristbands.


All the might of a SuperAlert™ ID in a compact package!
All new, advanced features of our SuperAlert™ Medical ID tags are in full force with these versatile tags. Detailed medical information with conditions, photos, medications, vaccinations and much more.