AssetTags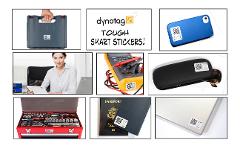 Asset Stickers
Asset Stickers
These Tough Stickers are suitable for many asset tracking applications!
There is no additional software to purchase, no subscriptions to buy - all you need for labeling a variety of assets is included!
Dynotag Asset Tracking
Featuring our patented DynoIQ ™ (learn more) Smart Tag technologies, Dynotag Asset Stickers are durable, and easy to set up. No battery to deplete, no electronics to failt they are maintenance-free.
Each sticker is sized 1" x 1.5" (25mm x 38mm) and has its own unique, private data area on our Industrial Strength servers.
You can manage your asset collection from any modern web browser; no special software or app required!
We recommend using this type of tag for office equipment, sporting gear, school property, rental equipment and other bulk applications.