PRP-AL-CT
Convertible Aluminum Luggage Tag Variants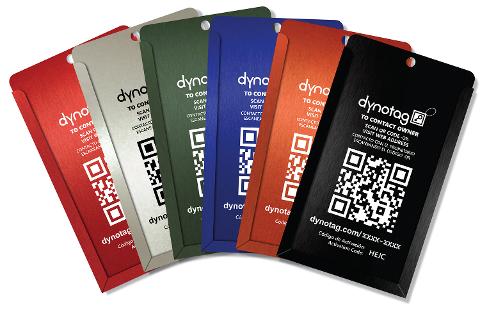 Convertible Aluminum Property Tags
Our classic Convertible Property Tags are designed for a sleek, modern appearance that works with most luggage, briefcases and sports bags...
Made from anodized aluminum and attached with supplied braided steel loop, this beautifully colored tag is ready for activation and use in multiple ways:
As is as a dynotag Smart Tag
Insert your company card in and advertise your business in style - while keeping the dynotag functionality
Flip the insert card to write your contact information down
In addition to keeping the dynotag functionality - the old fashioned method is handy when traveling to remote, isolated locations with sporadic Internet connectivity. This 2.26 inch by 4 inches sized - yet lightweight tag keeps your belongings visible while providing around the clock coverage. Ideal for briefcases, handbags, cabin luggage. Please note while aluminum is tough, for checked luggage we recommend our battle-ready Deluxe Steel Luggage tags.