AssetTags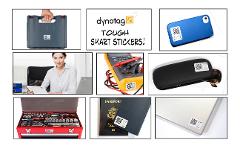 Asset Stickers
Asset Stickers
These Tough Stickers are suitable for many asset tracking applications!
There is no additional software to purchase, no subscriptions to buy - all you need for labeling a variety of assets is included!
Peace Of Mind With Asset Tracking That's Easy, Maintenance-Free and Works 7/24 For You!
In this product, you get sets of UNIQUE stickers. Each sticker is sized 1"x1.5" (25mmx38mm). Each one of these stickers has its own dynotag. This batch of stickers is "Bulk Activated" for your timesaving convenience, meaning that activating any sticker on the set activates all tags on the set.
Featuring our patented DynoIQ™ Smart Tag technologies and manufactured of premium materials, Dynotag's Smart Asset Tracking Tags offer several innovative capabilities for your asset tracking needs.
No special apps or database management software needed – all you need is any modern web browser (such as Google Chrome) to manage your collection of asset tags. Each tag's asset information is stored in its own private, reserved data area maintained by Dynotag Cloud Service (DCS).
Dynotag services are "instant-on". Once you sign into your dynotag account, you are ready to start activating tags and assigning them to assets. You can get going in minutes and tag a handful - or hundreds or assets in a short time.
Dynotags come with advanced DYNOIQ™ feature set built-in and with service included for LIFE! (learn more)
Not for office equipment only
These stickers work great on sports and outdoor equipment, school property, businesses with varying asset inventory as well as rental equipment.