AssetTags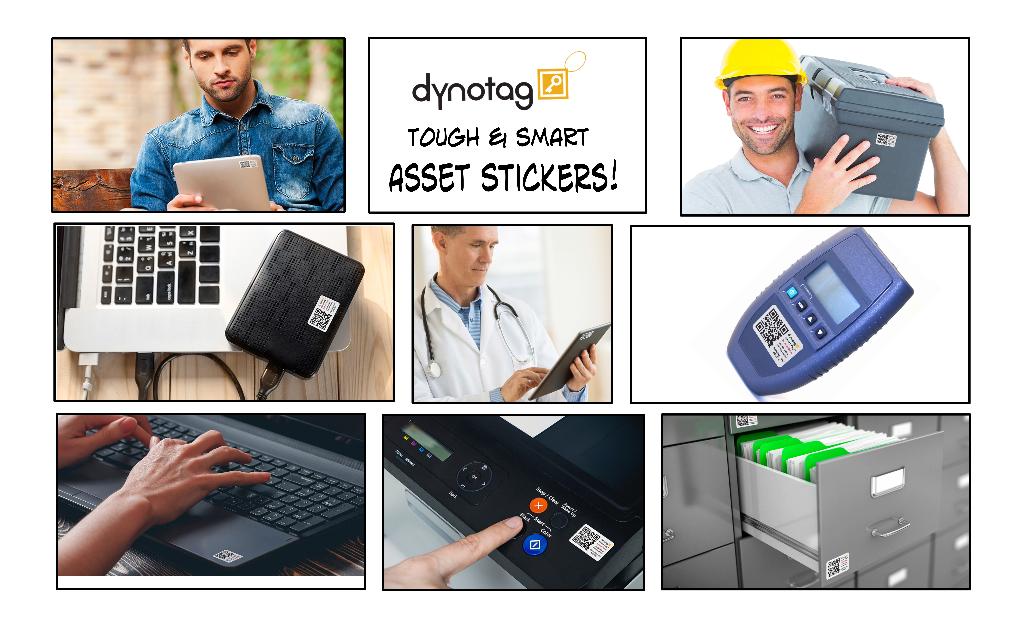 Asset Stickers
Asset Stickers
These Tough Stickers are suitable for many asset tracking applications!
There is no additional software to purchase, no subscriptions to buy - all you need for labeling a variety of assets is included!
Peace Of Mind With Asset Tracking That's Easy, Maintenance-Free and Works 7/24 For You!
Our tough stickers are made from a high tech special synthetic material with excellent resilience and imprinted with high-resolution art and information. We then coat them with a special hardened polymer for extra resiliency.
They feature a tough acrylic permanent adhesive that works well on clean, smooth surfaces.
Min Application Temp: 50°F
Min Service Temp: -40°F
Max Service Temp: 250°F
Note: In order to get a true measure of the adhesive's effectiveness, the label should be applied and allowed to bond a minimum of 24 hours prior to evaluation.
We suggest cleaning the surface using a tissue with rubbing alcohol, windex or similar liquid and drying prior to application.
In this product, you get sets of UNIQUE stickers. Each sticker is sized 1"x1.5" (25mmx38mm). Each one of these stickers has its own dynotag. This batch of stickers is "Bulk Activated" for your timesaving convenience, meaning that activating any sticker on the set activates all tags on the set. Please observe the instructions on the sticker strips for specifics.
Asset sticker products are available in bundles of varying size, ranging from 3 stickers to 100+ stickers per package. Economical bulk offerings are suited for larger scale asset tagging/tracking operations.
Featuring our our patented Smart Tag technology and manufactured of premium materials, Dynotag's Smart Asset Tracking Tags offer several innovative capabilities for your asset tracking needs.
No special apps or database management software needed – all you need is any modern web browser (such as Google Chrome) to manage your collection of asset tags. Each tag's asset information is stored in its own private, reserved data area maintained by Dynotag Cloud Service (DCS) - for LIFE, at no additional cost - lifetime subscription is included!
Your FREE dynotag account includes facilities to help you group your asset tags by various attributes that are suitable to your organization. Groups are optional constructs, which you can implement when needed. Each tag can be a member of one or more groups. You can then manage the tags in the group as a whole. You can also export the data in a MS excel compatible format for separate analysis.
Dynotag services are "instant-on". Once you sign into your dynotag account, you are ready to start activating tags and assigning them to assets. You can get going in minutes and tag a handful - or hundreds or assets in a short time.
You can set up and maintain each asset sticker up on a PC, Laptop, Tablet or Smartphone. Similarly, any third party viewing these tags can see the information shared by the owner – in a read-only fashion, using any web browser or smartphone with a QR reader. You can update contents if and when you see fit.
Dynotags come with advanced features built-in and with service included for LIFE.
All our tags feature a specially encoded QR code and a special web address that is unique for that tag.
You simply create your free dynotag account and click "Activate Tag" in your account - using that tag's specific "Activation Code". Once activated, the tag becomes exclusively yours and cannot be activated by anyone else! Then, only you, the tag owner, can update the tag contents. Others can only view what you choose to share.
Every dynotag has a private web page. Note that any modern web browser can be used to view the tag contents - NO special app is needed!
The QR code is a convenience shortcut: If available, a QR scanner on any smartphone can be used to scan the QR code to view the tag contents on that smartphone's web browser .
Our global service: Works anywhere on the planet with Internet.
You do not have to be in the vicinity of your tag to update its contents, just sign into your Dynotag account anywhere on the planet and update your tag content as you need - as often as you want.
Not for office equipment only
Our asset management tags, while a natural fit for office equipment, also work great on sports and outdoor equipment, school property, businesses with varying asset inventory as well as rental equipment.